Frequently Asked Questions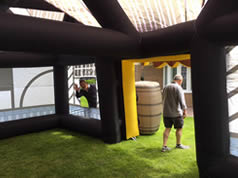 Q: How safe is the Inflatable Pub?
A: The Inflatable pub / bar is inflated using only fresh air. It is fire proof and complies to CE EN14960. All electrical parts are PAT tested.
Q: How many people does an Inflatable Pub comfortably hold?
A: Our 8 x 4m pub holds approx 30 people and the 10 x 5m pub holds approx 45 people.
Q: How much electricity will the pub consume?
A: The pub uses a 2HP blower which needs to run the entire time. Over about 8 hours this will consume approx £8 of electricity.
Q: How far away from a mains power source can the pub be located?
A: We will provide a 100m extension cable and an RCD for the pub blower and lighting.
Q: How much room does the pub require?
A: Each pub requires at least 1m clearance from any obstructions when fully inflated, eg. our 8 x 4m pub will require a 9 x 5m pitching space.
Q: How much access is required?
A: The Inflatable Pub itself does not require much access, a garden gate is fine.
Q: Are the pubs waterproof?
A: The pubs are waterproof in light or moderate rain but during sustained or heavy rain some leaking may occur.
Q: What areas do you cover?
A: We primarily cover all areas within a 25-mile radius of Swindon. Delivery and pick-up of the pubs is free within this distance. We are also happy to hire out our pubs further afield but please ensure you contact us for delivery charge pricing for your specific area before making your booking.
Q: How can I contact Inflatable Pubs?
A: Drop us an e-mail, a Facebook message or a good old fashioned phone call and we will try to answer any questions you may have.